Year 2 Poland

Welcome to Poland Class
Class teacher – Miss Morris and Mrs Norris
Attendance: Target 96% - We ask all parents to make sure that all children attend school whenever possible. If there is a reason why your children cannot attend school please contact the school office by 9am at the latest on the day of absence.
PE days: Please note that for this half term our PE lessons will be held on Mondays and Fridays.
Please make sure that you have your PE kit and proper shoes every week.
Homework: Is given out each Friday, please make sure it is returned by Wednesday each week.
Reading: We ask all of our pupils to read every evening with an adult at home. Every child will receive Dojo points every time their reading is recorded in their reading journal. Certificates and prizes will be presented for all those children who reach 60 points within a half-term.

Classroom Rules
At the beginning of the year we created our own set of classroom rules. We always follow our rules so we have a safe and happy classroom. If you'd like to take a look you can see our classroom rules below.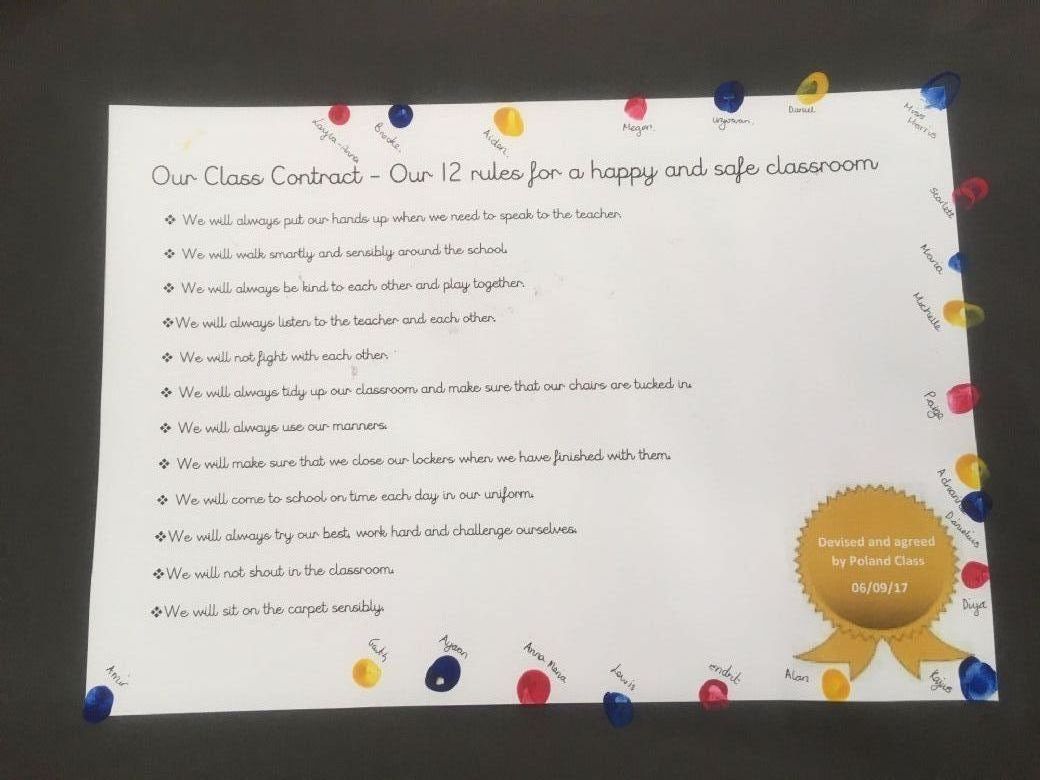 Summer Term (June - July)
Here's what Poland Class will be doing this summer half-term.
Our exciting new topic is 'Beachcombers', we will be learning all about the beach and the creatures that live there. We will be going on a trip to Hunstanton beach and the sealife centre.
We will be writing our own sequels to 'The Rainbow Fish' and non-chronological reports about sealife creatures.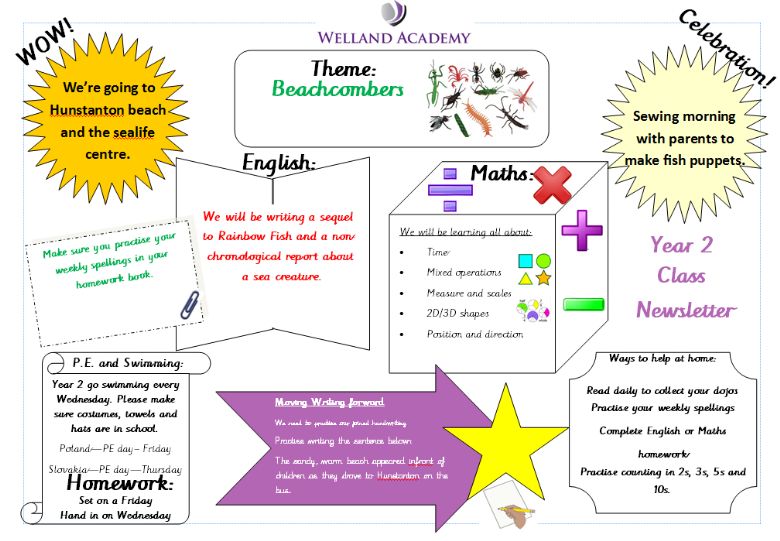 Summer Term 1 (April - May)

Here's what Poland Class is doing this Summer half-term.
Our topic is 'Wriggle and Crawl' and we'll be looking at minibeasts and their microhabitats.
We'll be writing stories about insects and non-chronological reports and in Maths we'll be improving our addition and subtraction, alongside our multiplication and division.
Poland Class will be swimming every Wednesday and we will return to school around 3.30pm.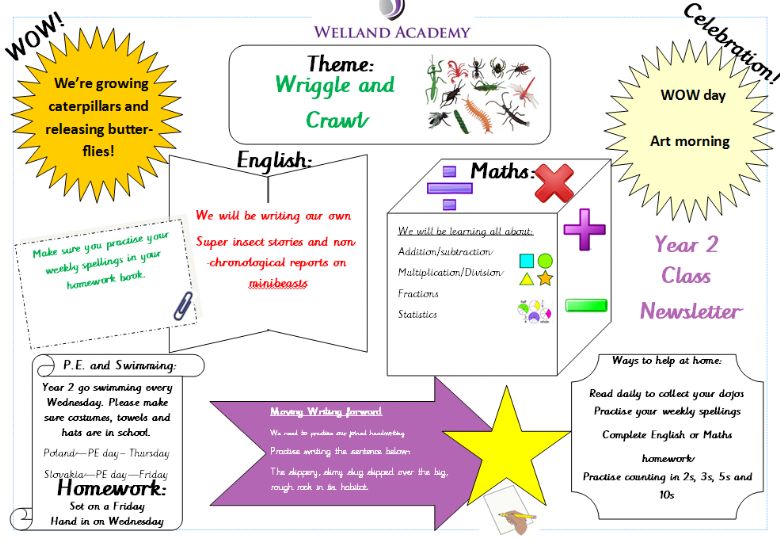 Spring Term 2 (Feb - April)

Here's what Year 2 are up to in Spring Term 2
Our Spring Term will be looking at the topic of 'The Scented Garden'. We'll be looking at what flowers and plants need to grow, grouping and classifying objects and using technology to create our own pieces of digital art.
In Maths we'll be looking at money, measure, multiplication and division, fractions and shape and in English we'll be writing our own alternative fairytales.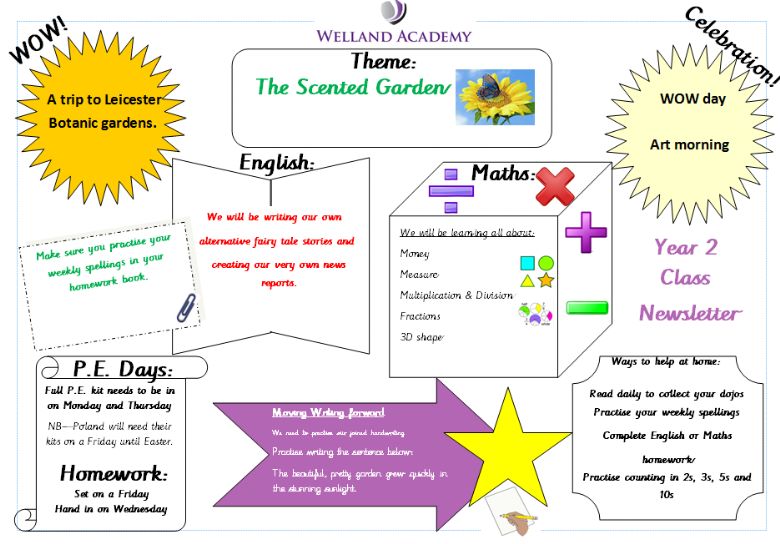 Spring Term
Here's what we're upto during our Spring Term!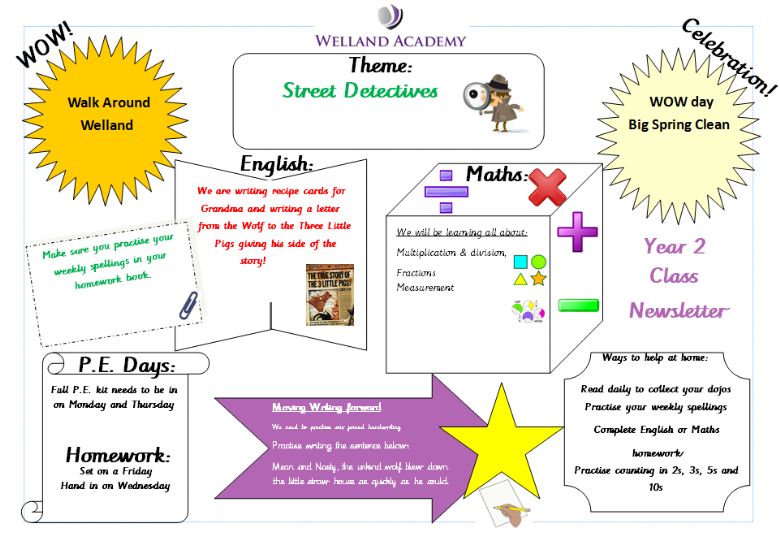 Our Spring term theme will be 'Street Detectives'. We'll be exploring our local area and thinking of inventive ways to make our own locality even better, so keep your eyes peeled for some of our ideas during our 'Big Spring Clean'.
Our English work will be based around 'The Three Little Pigs' and 'The Flower' by John Light.
Our Mathematics will include addition, subtraction, multiplication, division, fractions, measurements, shape and much much more.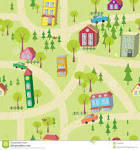 Mind the Moat
Our theme this half-term has been Mind the Moat. We've had a brilliant term looking at Medieval Castles and people and we enjoyed our trip out to Rockingham Castle. Well done to all children who created their own castles this term, they were all fantastic!