Tea with the Queen - of Welland Academy!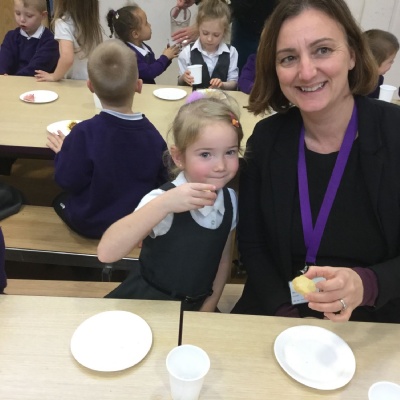 Reception have been learning about countries around the world - this week we looked at the United Kingdom. We invited the Principal to have a traditional English afternoon tea with us!
This term, the children have really enjoyed learning about countries around the world. We looked at our local environment, things that we like to eat and do in this country, and visited our local church. We talked about there being a range of languages and religions in our country, but many choose to visit church if they are a Christian. The children enjoyed sharing their own ideas about the church, and compared it to their own places of worship, if they had them.
After reading the story The Tiger Who Came to Tea, we decided to invite the most important person in our school to enjoy a tea party with us. We did think about asking the Queen but we knew she would be busy at such little notice! Luckily, the kitchen at school provided us with some delicious cakes and we were able to try a range of delicious treats.
We hope that this means we will be tasting lots of delicious foods from around the world this term!