Pizza Making!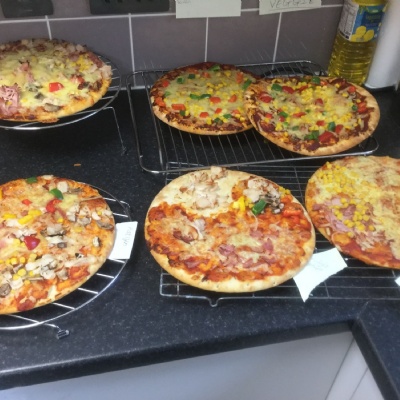 Year 4 got 2019 off to a very exciting start by designing, making, cooking and eating their own pizzas!
To kickstart our learning about different food groups as part of our topic 'Burps, Bottoms and Bile', Year 4 started the day by designing their own tasty pizzas. They then had the opportunity to create these pizzas using a range of toppings and bake these with an adult in the kitchen. After this, they looked at a variety of persuasive adverts and created their own persuasive poster to advertise their new pizza.
In the afternoon, it was time to put the pizzas to the test and taste them! The children then evaluated their pizzas and considered what they might improve even more if they had another go. Over the next few weeks we will be referring to this exciting activity as we consider how humans eat and digest their food, different food groups and even create a healthier alternative to their pizza.