Papa Luigi Visit!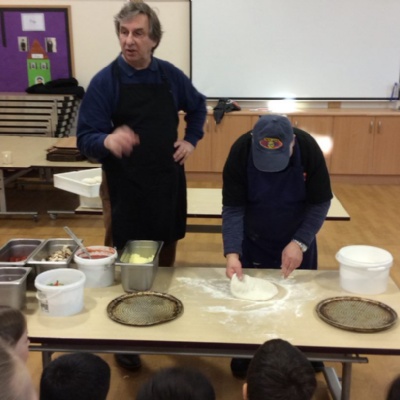 A few weeks ago Year 4 enjoyed a visit from Papa Luigi to learn about different ingredients and have fun creating their own healthy pizzas!
To link with our work on the five food groups in our topic this term 'Burps, bottoms and bile', we started the afternoon by hearing some interesting information from the Papa Luigi team about the different ingredients that they use for their pizzas. We learnt where they come from, which food group they were in and even how to say some of them in Italian!
After that, it was time for us to create some pizzas of our own! Each child was given a freshly made dough base and had the choice of lots of different ingredients. We even folded our own pizza boxes to help us take our pizza creations home.
At the end of the session, the instructors gave us some more information on how to make healthier choices with pizza and how Papa Luigi as a company are trying to be more eco-friendly.
To finish off, the children and teachers had an exciting dough throwing competition and won some free pizza vouchers! An exciting and informative afternoon was had by all - thank you Papa Luigi!