Year 4 Roman Day!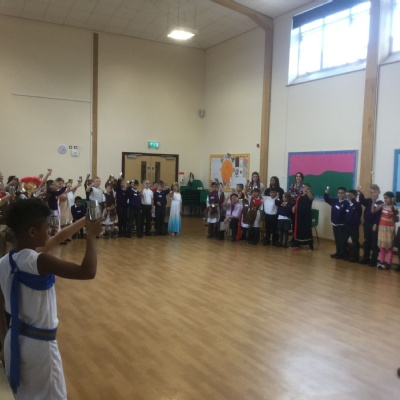 Our 'WOW day' for our topic this half term ('I am Warrior') was all about understanding how the Romans lived their everyday lives. We learnt about their different jobs, crafts, foods and artefacts and even created some of our own!
Throughout the morning, our Roman instructor introduced us to all sorts of Roman artefacts and activities that the Romans would have used or completed in the past. The children had the chance to try making oil lamps, herbal remedies, mosaics, a Roman style painting, charms for a Roman bracelet, Roman pots and an embossed broach. There was also the opportunity for some children to join the Roman army and practise some ancient marching drills.
In the afternoon, it was time for the Roman feast and entertainment! The children were split into groups to either learn a dance, some different Roman marching drills or to perform a Roman play. In between the entertainment we were served traditional Roman foods which we all enjoyed together.
Overall, it was a fantastic day enjoyed by everyone! Thank you to all of those that dressed up.