Year 4 Potion Making!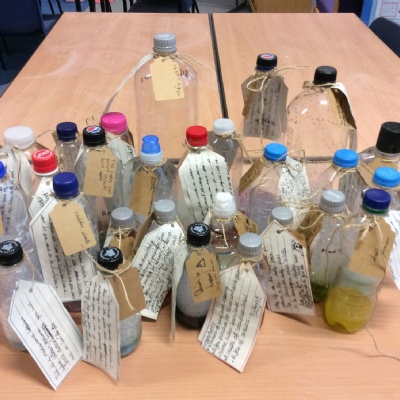 Today, China Class started off their new topic 'Potions' with some very exciting potion creation activities.
First of all, the children looked at some 'potion' bottles carefully and imagined what sort of potions they might contain. They then used what they had learnt to design their own exciting potion and potion bottle.
After the design stage, it was on to the making! The children had lots of different ingredients to choose from for their potions including food colouring, different types of sprinkles, herbs, lemon juice, glitter, washing up liquid and sequins. It was great fun mixing them all together to create magical potions! Once their potion was finished, the children collected some exciting vocabulary to describe what they had made using their senses. Then, the children designed a label for their potion including the ingredients and a description of what it could be used for.
In the afternoon, It was time to create the potion bottles! The children were given some clay and had to mould and smooth it into the right shape to reflect what their potion would do if you were to drink it. They then added details and patterns using specific tools to achieve different effects.
It was a brilliant day for everyone, that was full of imagination that we can carry into the rest of our topic!
Thank you for bringing in the bottles!
Click here for more photos!