Traders and Raiders impact day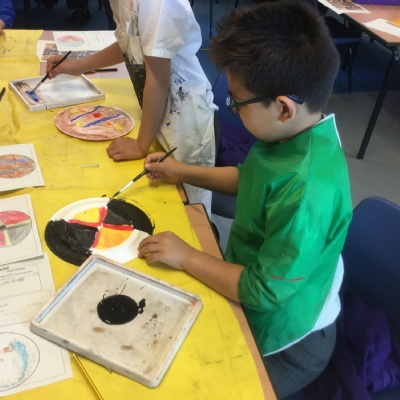 Today, we launched our new topic 'Traders and Raiders'.
We started our topic by learning about the Anglo Saxons, where they came from and who they were. In order to learn a little about the way they lived, we looked at many aspects of their lives including some of their food, jewellery, weaponry, clothing and homes. We looked at designs of Anglo Saxon amulets and then made our own using clay, we will paint them tomorrow. We also designed our own Anglo Saxon shields and painted the design onto small paper plates. Alongside these activities, we also made our own Anglo Saxon honey shortbread, 3D Anglo Saxon houses and we sketched ourselves in Anglo Saxon clothes.
In the afternoon, we ate our Anglo Saxon shortbread (everybody tried it, which was brilliant) and we made our own stained glass windows based on designs from Anglo Saxon monasteries. We discussed the intention of the Viking invasions and how they would steal the riches and treasures from the monasteries. Everybody had a brilliant day and it was a wonderful start to the new topic. We are all eager to learn more about the Anglo Saxons and the Vikings!